Tatami 420 m2
You can train on the beach, listening to the waves, and on an open tatami, surrounded by nature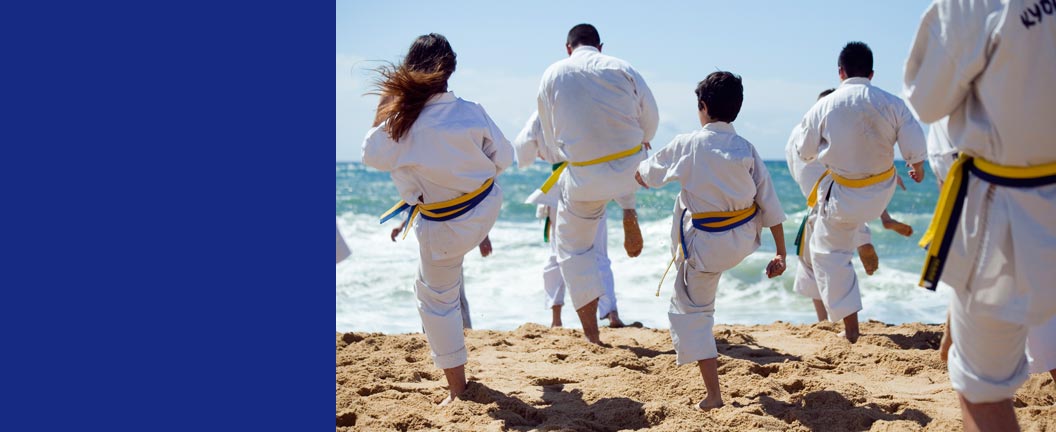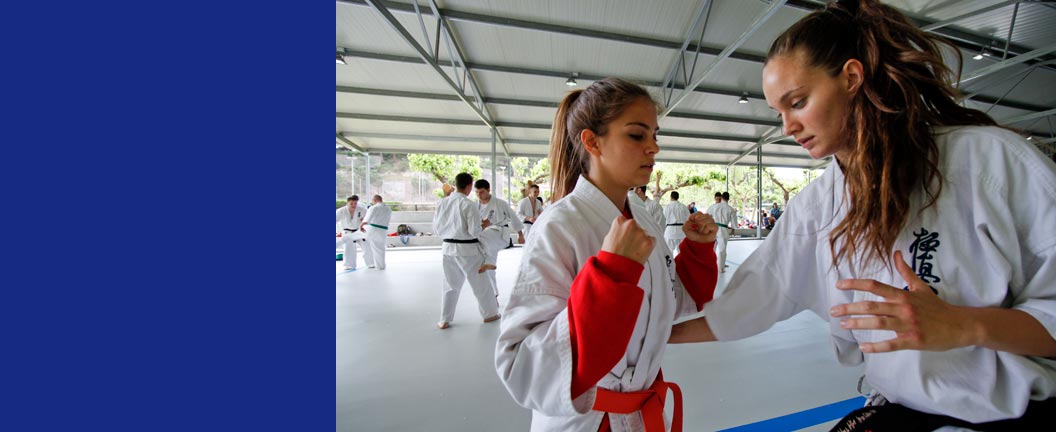 Organise your martial arts visit!
For more than 30 years we have been hosting international martial arts visits: judo, karate, taekwondo, aikido, jujitsu…Eurostage works with martial arts clubs so that they can visit us with all of their members; they can train together, compete, do exams and live together for several days. Great international masters also visit us and hold open days for students from all over the world.
Totally renovated tatami
» Covered surface area of 700 m²
» Roof with thermal insulation
» Ventilated premises, open on three sides
» Side steps to accommodate 300 spectators
» Tatami 420 m² with two dojos (8 x 8 m)
» Surrounded by 5,000 m⊃ of grass
» Annexed toilets and changing rooms
» Gym and sauna
» Swimming pool
In the heart of nature
The training sessions in Eurostage will allow you to combine a session in the morning, looking out to sea, feeling the sand between your toes, and several sessions in the afternoon, on the tatami.
The tatami is located in a closed building, with spaces for individual withdrawal in the shade of mulberry and willow trees. Amidst this natural equilibrium, you can practise meditation.
After your training session, you can go for a dip in the pool just opposite the tatami.
Judo, Aikido

Karate,

Taekwondo, Jujitsu...
Take a look at some of the visits we host
Accommodation, board and tailor-made activities programme
Mansky-Hagge karate visit in autumn
For 27 years Dieter Mansky (8º dan) has been organising karate workshops at Eurostage. From 4th -11th October 2014 he will once again visit us, this time with Wolfgang Hagge (7º dan). Aimed at adults
Programme: koshikan and shotokan karate and exams up to 5º dan.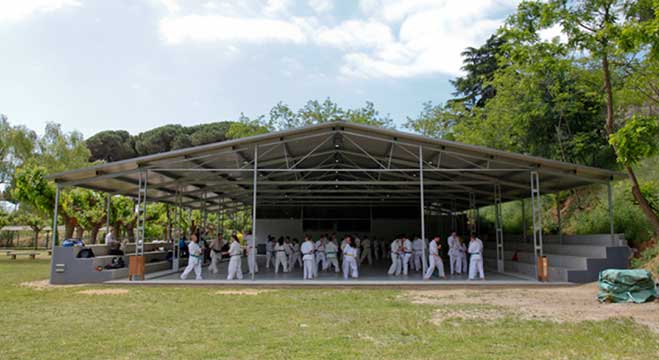 Judo summer camps
High-performance judo visit, run in German, held for 29 years. Aimed at boys and girls from 12 to 16 years of age
Dates: July-August
Teachers: Hans-Werner Sinnwell, European champion (81 kg); David Metger, German champion (73 kg); Jan Metger, German champion (90 kg).
Programme: Intensive training on the tatami, physical preparation and leisure activities: water park, excursions, beach, swimming pool, tennis...
Accommodation in the Aventura camp
Raimer-Modl karate visit in autumn
Heinrich Raimer (8º dan) and Andreas Modl (7º dan) will be with us again from the 18th to the 23rd of October 2014.
Programme: Traditional karate; katas and self-defence; Kyu and Dan exams.
Ideal for

meditation

groups, gym...